Green Card Attorney Serving New York
What is a green card?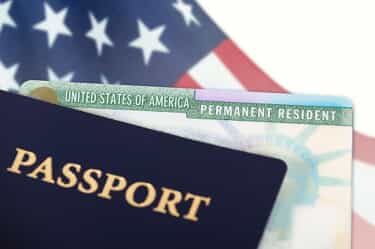 When a person wants to become a permanent resident of the country, he or she must first obtain a green card. Originally deriving its name from the color of the card, a green card is something that gives an alien immigration benefits, including the ability to work and live in the United States. Formally referred to as a permanent alien registration card, obtaining this is a legal process that is thought to be extremely complex and requires the help of a skilled New York immigration lawyer.
At Eiges & Eiges, PC , our legal team represents individuals and families throughout New York who require legal assistance in obtaining a green card. Once a person has successfully obtained their green card, this person will live with a resident status for the next two years, so long as they abide by the law. After the two year period is complete, the person may apply for a permanent residence visa that will allow them to stay for ten years as long as they remain in good standing. If a person violates the law or their immigration status in any ways, they face the risk of deportation and removal from the country. Should the person remain in good standing, he or she can renew the green card indefinitely.
How a New York Green Card Lawyer Can Help
If you are a non-U.S. citizen looking to apply for a green card and to move to the United States, our firm is the right place for you to start. Our legal team has many years of experience in immigration law and an AV® rating by Martindale-Hubbell®. We have the legal insight and education that you need, and the understanding that your case demands. We know all aspects of immigration law as they relate to your case, and we refuse to give up on our clients. For a free review of your case and to further discuss the details of pursuing a green card, call our office today!
Contact a New York green card attorney right away to schedule your initial case consultation.